Life in Istanbul
Climate
The climate of Istanbul falls into the category of 'temperate', which means that the seasons rather merge into each other, and temperature changes are quite subtle. Summer weather in Istanbul is both hot and rather humid, while the winters are considerably cooler and rather wet at times.
Language
The official language in Turkey is Turkish, which is spoken by the vast majority of the inhabitants. English is understood and spoken at a fair level by almost everyone in Turkey.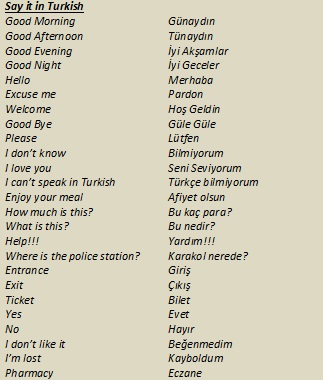 Public Transport
The ISTANBUL CARD is commonly used on the following modes of transportation within the Metropolitan Municipality of Istanbul: Sea buses, marine city lines, all the İETT buses, private/public buses the Tünel and the tramcars. You can have discounted public transportation cards. Please check the site of İETT at www.iett.gov.tr
Bus
Public buses in Turkey operate much the same way as they do in other countries. Each bus displays its route and bus number, as well as indicates its origin and destination locations.
Dolmuş
Dolmuş is a communal taxi. They usually have a placard in the window showing its origin and destination. But keep in mind; you have to pay cash for Dolmuş.
Taxi
Licensed taxis are bright yellow or turquoise, with a roof-mounted taksi sign. They're all metered, and relatively cheap by European standards. The meter clock starts at 4 TL and every additional kilometer costs 2.5 TL
Local Ferry
The most frequented ferry terminals on the European side of Istanbul are near Eminönü and Karaköy on both sides of the Galata Bridge. From here the ferries set sail for the Asian side of the city, where Üsküdar and Kadiköy are the main stops.
http://www.ido.com.tr/
http://www.denturavrasya.com/en-EN/
Railway
There are marmaray, metro, tram, funicular, and cable car lines on both sides of Istanbul.
Here is a list:
METROBÜS:
| | | |
| --- | --- | --- |
| Line | To/From | From/To |
| 34 | Acvılar | Zincirlikuyu |
| 34 A | Cevizlibağ | Söğütlüçeşme |
| 34 AS | Acvılar | Söğütlüçeşme |
| 34 BZ | Beylikdüzü | Zincirlikuyu |
| 34 C | Beylikdüzü | Cevizlibağ |
| 34 G | Beylikdüzü | Söğütlüçeşme |
| 34 U | Zincirlikuyu | Uzunçayır |
| 34 Z | Zincirlikuyu | Söğütlüçeşme |
MARMARAY:
Kazlıçeşme – Ayrılık Çeşmesi
METRO:
| | | |
| --- | --- | --- |
| Line | To/From | From/To |
| M1A | Yenikapı | Atatürk Airport |
| M1B | Yenikapı | Kirazlı |
| M2 | Yenikapı | Hacıosman |
| M3 | Kirazlı | Olimpiyat Başakşehir |
| M4 | Kadıköy | Tavşantepe |
| M5 | Üsküdar | Yamanevler |
| M6 | Levent | Boğaziçi Üni./Hisarüstü |
TRAM:
| | | |
| --- | --- | --- |
| Line | To/From | From/To |
| T1 | Kabataş | Bağcılar |
| T2 | Taksim | Beyoğlu Tünel |
| T3 | Kadıköy | Moda |
| T4 | Topkapı | Mescid-i Selam |
FUNICULAR:
| | | |
| --- | --- | --- |
| Line | To/From | From/To |
| F1 | Taksim | Kabataş |
| F2 | Karaköy | Beyoğlu Tünel |
| F3 | Seyrantepe | Vadistanbul |
CABLE CAR:
| | | |
| --- | --- | --- |
| Line | To/From | From/To |
| TF1 | Maçka | Taşkışla |
| TF2 | Eyüp | Piyer Loti |
http://www.istanbul-ulasim.com.tr/en