We are happy to share this article that written by our student who L. Hazal Postacı spent an Erasmus exchange semester  at  University of Information Technology and Management in Rzeszow, Poland.
I'm writing this article now while I remember how I was happy when I won the Erasmus exam in Turkey. Because it was very important for my life, and I did. I won Poland; actually I had not more choice. And I started a new life.
I came to Poland with my father; I was a bit different than other students. I have never been abroad in my life.  Therefore I had no experience about anything and my parents were a bit worried, so I came with my father, he stayed with me three days in Poland. It was really good for me. Because I didn't know anybody, I didn't have any friends in my university who have been Poland.  Why I said that? Generally students come with their friends. 
I arrived in Poland (RZESZOW) eighteenth of February and I met with my mentor called Maria Bulbah, she was waiting for me in the airport.  I have never had a mentor in my life, I had no idea but that sounds liked a good idea. Hopefully I had an awesome mentor. She did everything for me and she is also friendly and she knows Turkish culture because she had been in Turkey in previous. Mentors were big luck for me, so I really liked "mentor system". If they were not, lifetime would be very difficult in Poland. Because they taught us everything about Rzeszow, "How can we use the bus?" "Which bus is going where?" "Where is the supermarket" "Where is the hospital" and too many questions like that. I would like to say this sincerely, my mentor was like my mother in Poland.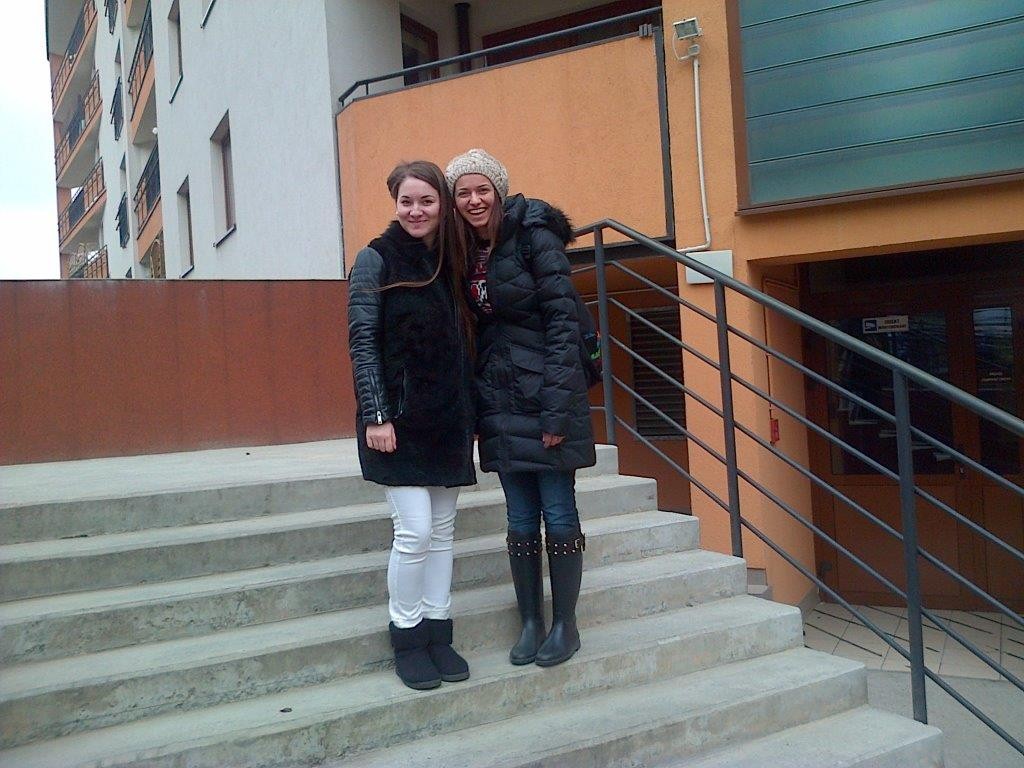 This is our first photo with my mentor.
Rzeszow is a small city but you can see too many students. I'm not sure how many universities do they have.However we had too many parties in this small city, every weekend and on Thursday and Sunday nights we had student parties. 
By the way, I would like to give one advice, if you will come to Poland in spring semester, don't rely on the weather! Even spring semester Poland is cold for Turkish people. We're not used to cold weather. So you should bring your warm clothes, even spring semester till May.
University of Information Technology and Management in Rzeszow
Campus buildings usually are not significant. What about important "the education system''. But first impressions are affected by campus.
Secondly, courses were good and also practical side and theoretical side were together. Teachers used the combination of workshops, group works and lectures. I had never made a presentation in English; it was really a big experience for me and for my education life. I made presentations almost every lesson. Also teachers are very kind and indulgent. If we have any problem, we can easily talk to them. In addition to this, second campus "Kielnorava" is perfect. I have been there only one week, but campus is awesome, the only problem is transportation.
In my opinion, "Erasmus Welcome Days" was good and necessary for meeting with the other Erasmus students. We learned "how to make changes in learning agreement?''. We ate our first lunch; it was polish traditional food, which name is "pierogi".
After welcome days we started the university. Firstly I have to add my opinion about our flat. Flat was good and every stuff was new, but it was from the campus. We did not live in dormitory, it was good too. I was wondering, why we were living here? Why the university didn't think about that problem?  As a final word about flat, if we are studying in private university, the university should think about everything perfectly.
We took that picture in Erasmus welcome days with all the mentors and Erasmus Students.
I also joined some trips and parties in Rzeszow. I think the most beautiful side of the Erasmus is travelling, because you can see different cities, cultures, food, museums etc. You can meet in the world. Actually I traveled too much.  And travelling to Poland is really cheaper than Turkey.
I have been in Krakow and Warsow. I also really liked other cities in Poland especially Krakow. I learned Second World War; I learned too many historical stories. Although Rzeszow is a small city, I love Poland!
In conclusion it can be said that; I learned too many things in my Erasmus life, I recognized Polish culture and other cultures when I visited the city. It was a big experience in my life, I will never forget Poland and Rzeszow, because I lived with ten people in the same flat and each people has different culture. I didn't see only Polish culture, I saw France, Portugal, Ukraine cultures and life styles too. It was a big chance for me because I must talk English every time and improve my language skill. Sincerely I would like to say, all student should join Erasmus! It was my milestone! You should make yours.